Why Butterflies?
I get asked all the time, "why butterflies?"
There are so many reasons why I talk and write about butterflies. Why they are all over my website www.energy-enigma.com; why I have one on my business card; why my home and office are loaded with butterfly paraphernalia; and, why I own just about every book ever written about them. It's complicated, but I do explain it a bit in my writings. It is definitely related to my philosophy of living-dying.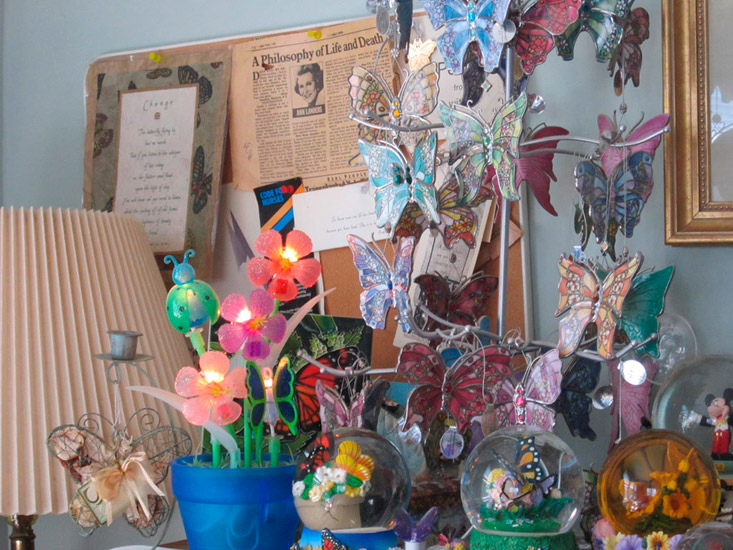 Butterflies are the most awesome animal in nature (I have difficulty calling them insects). It is not just the aesthetic aspects—they are beautiful to look at—but the way they change from one form to another (metamorphosis) has me entirely enthralled. I am not alone; there are plenty of other people who are obsessed with butterflies (see reference list).
I am an ever-evolving amateur lepidopterist. I do not collect butterflies, although over the years I have managed to wind up with a collection of them; gifts from people in all walks of life, some known to me, others not. My butterfly gifts are associated with some very special memories; a lot of them were random acts of kindness that let me know I had inspired someone else in some way. I have many stories; I will share one brief random act here.
A locksmith had been called to fix my office door lock and he came to repair it when I wasn't on campus. The next time I went to my office I found that the door had been fixed. I also found a note that said "I like your butterflies; here is a poem you will like, enjoy." I guess my butterflies had done their trick and made him smile. I left the note on my door; seeing it along with the new butterfly poem makes me smile. I have some other truly poignant butterfly stories, but they would take too long to tell here.
I have a dear friend who sends me butterflies (in every form you can imagine), on a regular basis. They often show up when I really need something to lift my spirits (I do not believe in coincidences). I cannot tell you how much they mean to me and how they make my entire family smile (only a sample is shown here!).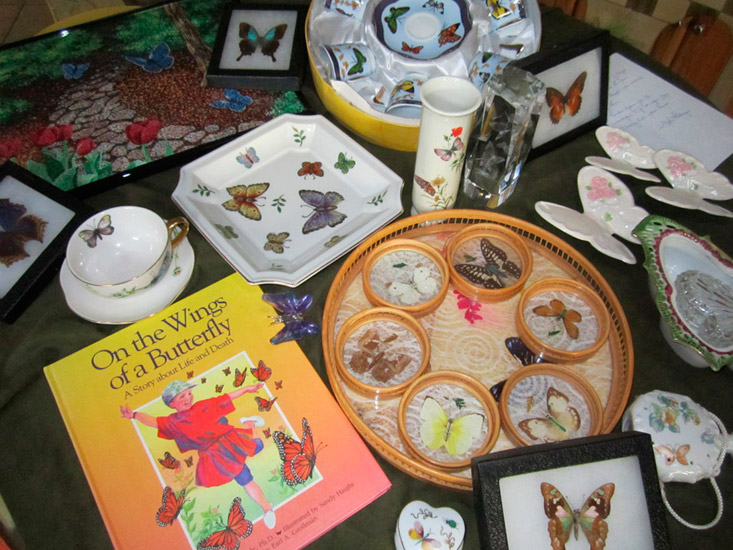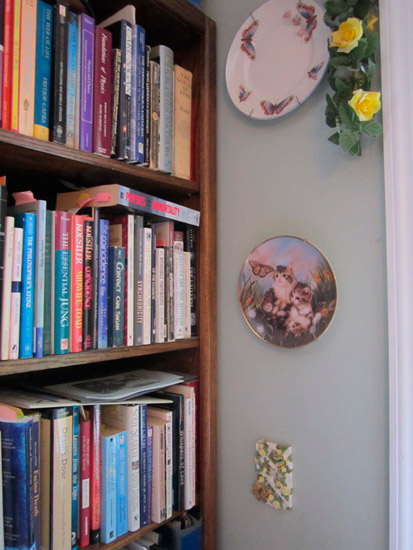 I follow the butterflies…I am always cognizant of them wherever I happen to be. I miss them when they are not where they should be. For example, a few years ago I was on a tropical island filled with great nectar sources but there were few butterflies. Upon exploring the reason for what seemed (at least to me) an all too obvious near absence of butterfly life, I found out that the mosquitos had been really bad for a time and consequently the government had sprayed insecticides all over the island. In so doing, they had killed off a significant number of their butterfly population that year.
I follow the butterfly migratory patterns and activity. I am so fascinated with them (or perhaps I should say enchanted by them?) that we bought a cottage in Cape May to be closer to all the butterfly action during the fall migration. Cape May is amazing during the fall migration. The cottage we have faces north and we can sit on the porch and watch the butterflies literally drop out of the sky.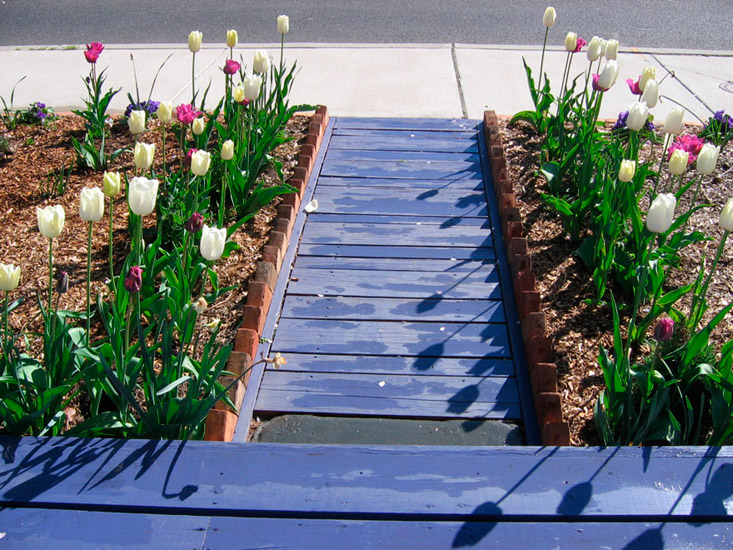 When we are in Cape May in the fall and I am not gardening or running around the neighborhood looking for roosts (or getting up before dawn to watch the butterflies awaken in their roosts), you can find me sitting on our porch watching the butterflies as they come into Cape May.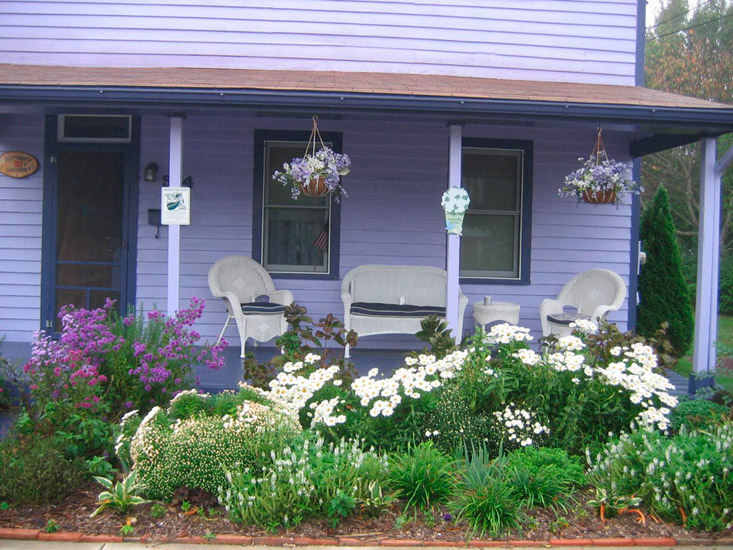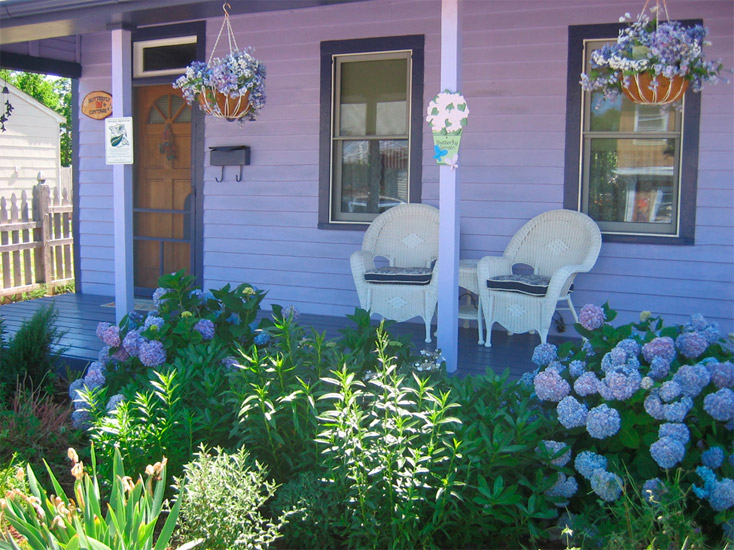 Many stop by and stay with us (and our gardens) for a few days before moving on.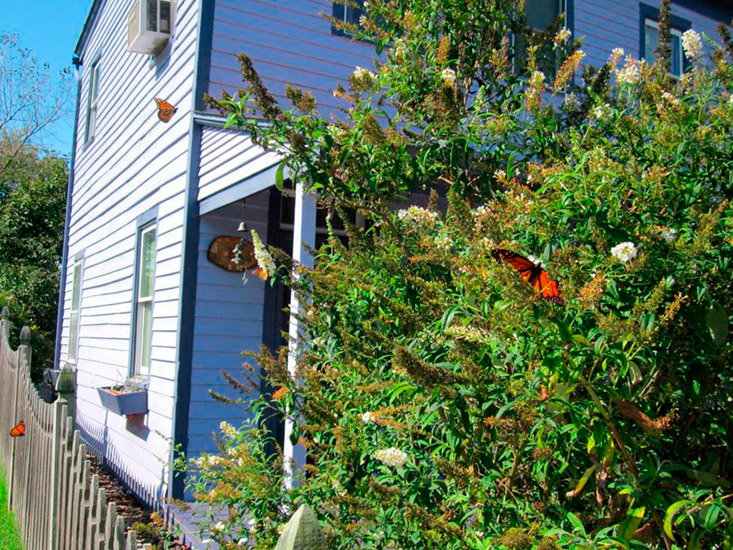 I am an avid butterfly gardener. I cannot kill caterpillars (cats) and like nothing more than when my milkweed (asclepias) plants do not get the opportunity to bloom (because the monarch babies—the cats—are eating the milkweed as fast as it grows). I buy parsley, dill and fennel, just to have them in the garden for the swallowtails (there are two swallowtail cats below who are very happy).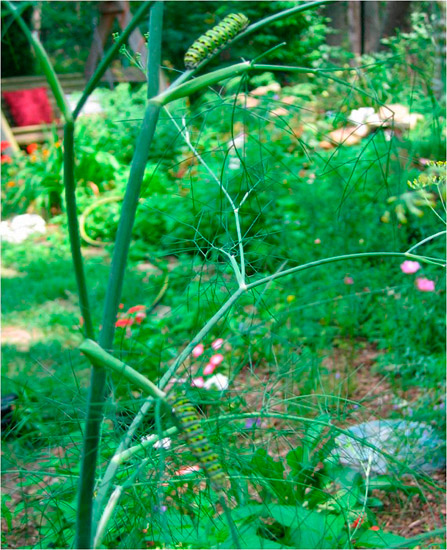 Butterflies are a perfect representation of continual, purposeful energy transformation. Their metamorphosis is nothing short of miraculous. Butterflies are indicative of eternal change and renewal.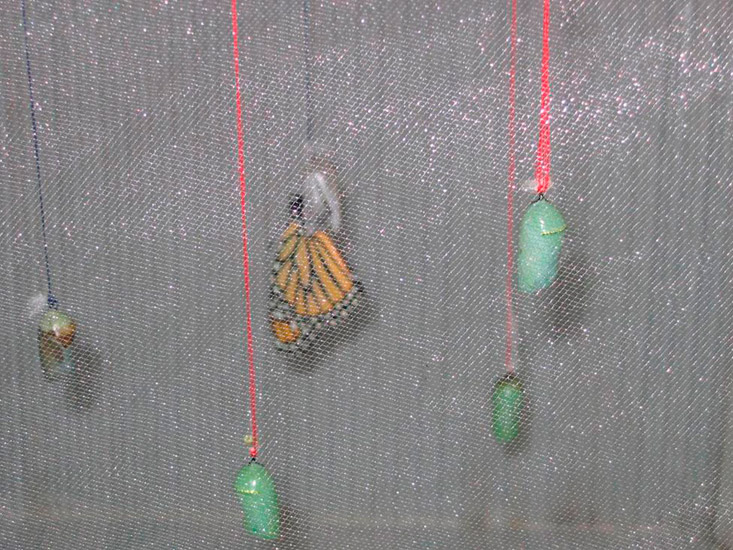 On occasion I have helped them along by bringing the cats into the house and providing them with a safe(r) place to eat and grow. Above is one of our new additions, with several more on  the way.
Many people of varied cultural and spiritual backgrounds believe that the butterfly is a physical manifestation of their dead loved ones. They believe that butterflies represent the souls of the departed…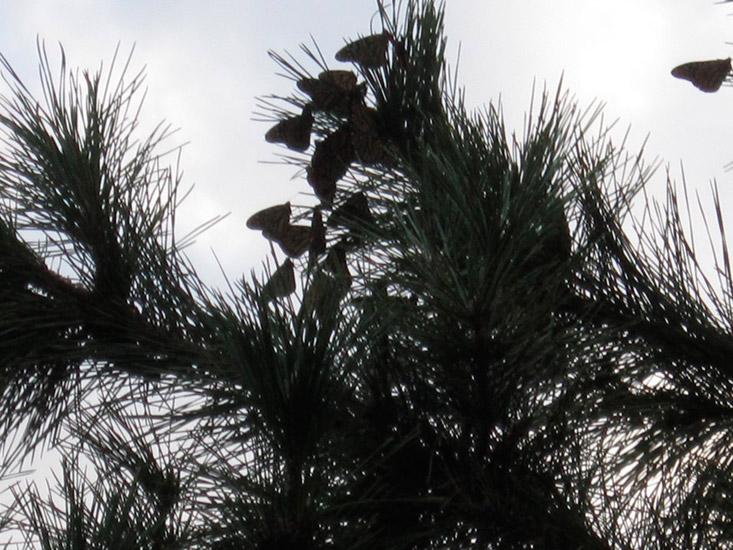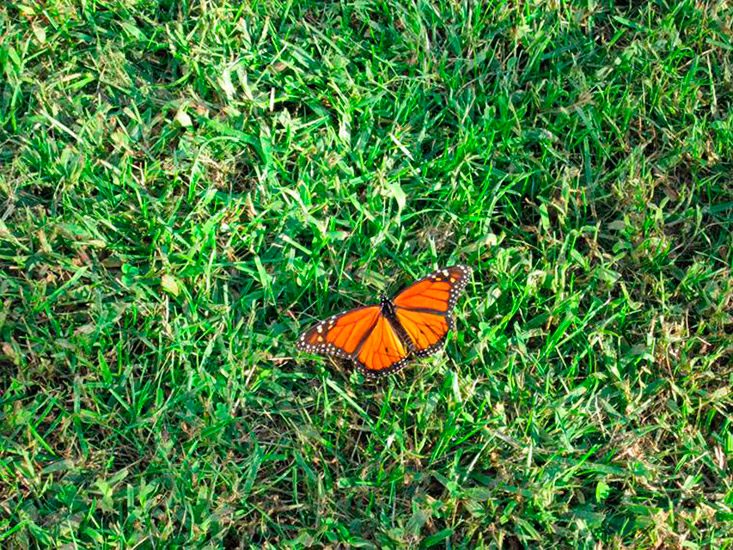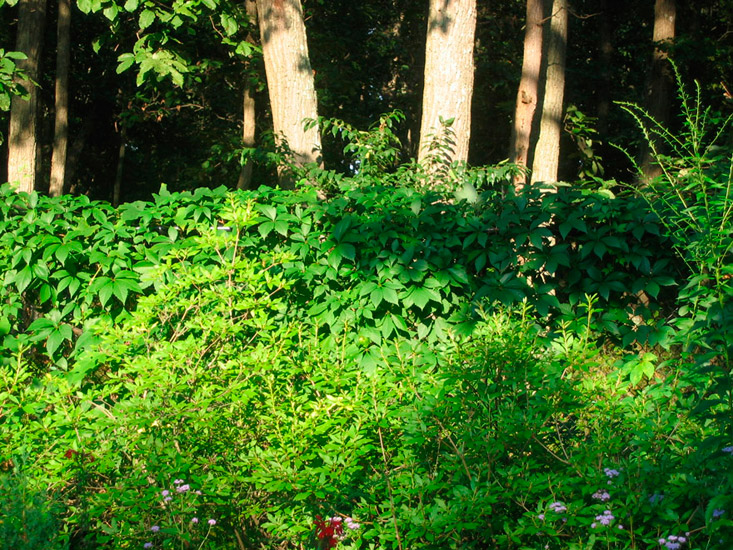 The monarch travels thousands of miles south to overwinter in the mountains of Mexico and they arrive en masse around the beginning of November. At the same time, the Mexican people celebrate, over a 3 day span, Dia de los Muertos (Day of the Dead). From October 31 to November 2 there are three Christian holy days (All Hallow's Eve, All Saints Day, and All Souls Day). Is it coincidental that millions of la mariposa (butterflies) arrive in Mexico during this time? Ah, it takes 4 generations of monarchs each year to make the roundtrip journey. What do you think?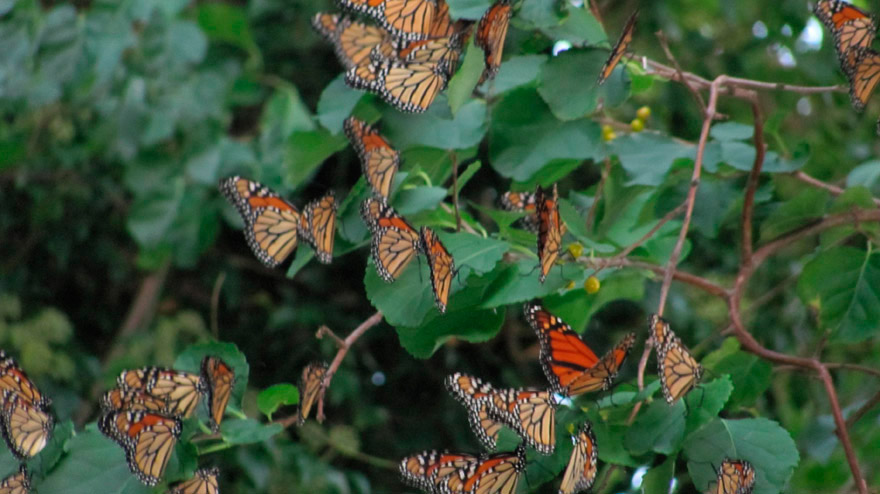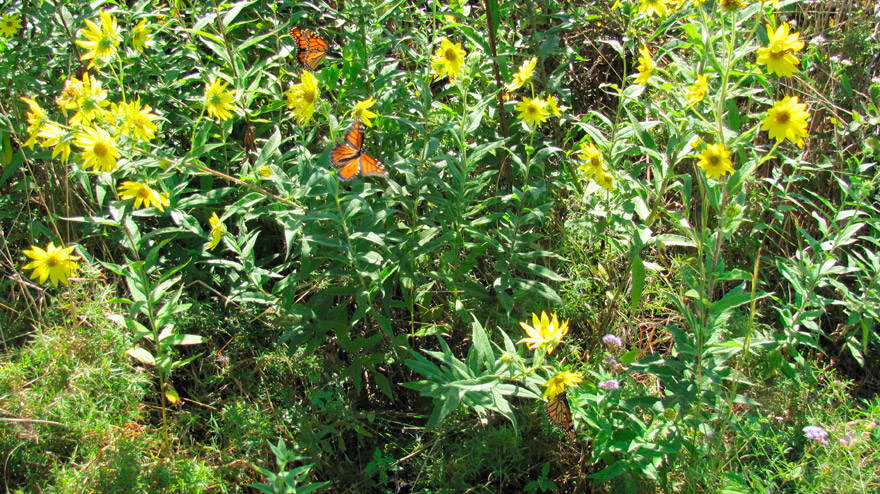 Butterflies are magical.
Butterflies are literally everywhere-and when people notice them, it lifts their spirits.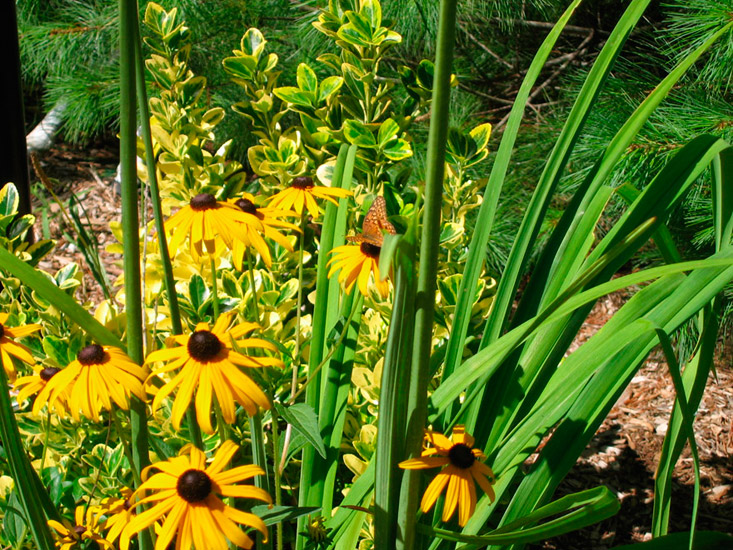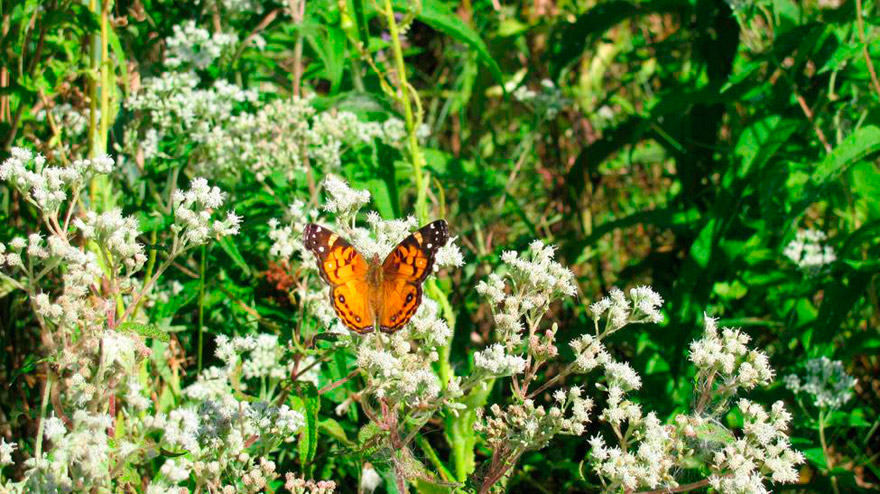 The problem is, much of the time people do not notice them.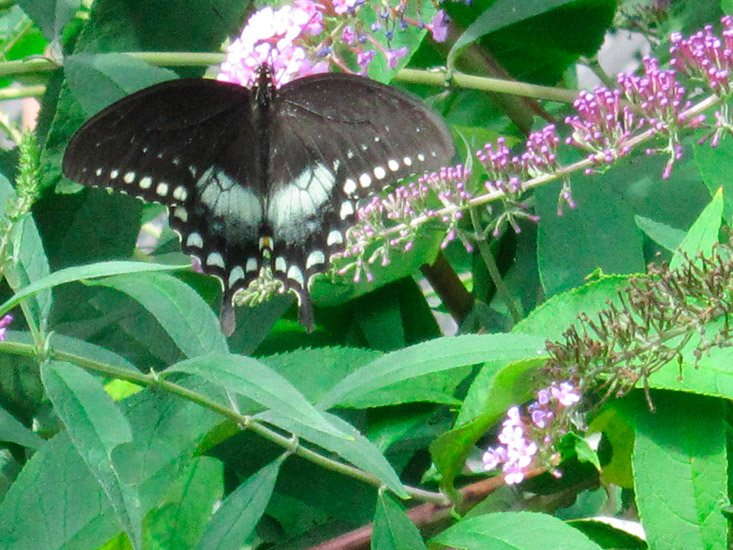 I have even heard people say that there are no butterflies in the city… And yet, the day we planted our 9-11 butterfly memorial garden on campus in New York City, two butterflies stopped by, letting everyone know there is truth in the saying, plant a garden and they will come.
The following year I showed everyone, students and faculty alike, the monarch babies (cats were all over the milkweed we had planted). That year I simply had to have several impromptu seminars on raising monarchs; I passed around a leaf with a cat on it in my classes. Of course, after class I returned her to the garden.
During one great monarch migration, a few years back, I couldn't stay inside at work. It was just too exciting. Not many people seem to be aware that 1st Avenue in Manhattan is a great flyby area for monarchs during the fall migration. It is sometimes literally a highway in the sky. Over the years I have taken students and colleagues outside to show them the incredible monarch activity flowing from north to south right along the avenue.
How can people not notice, I always wonder?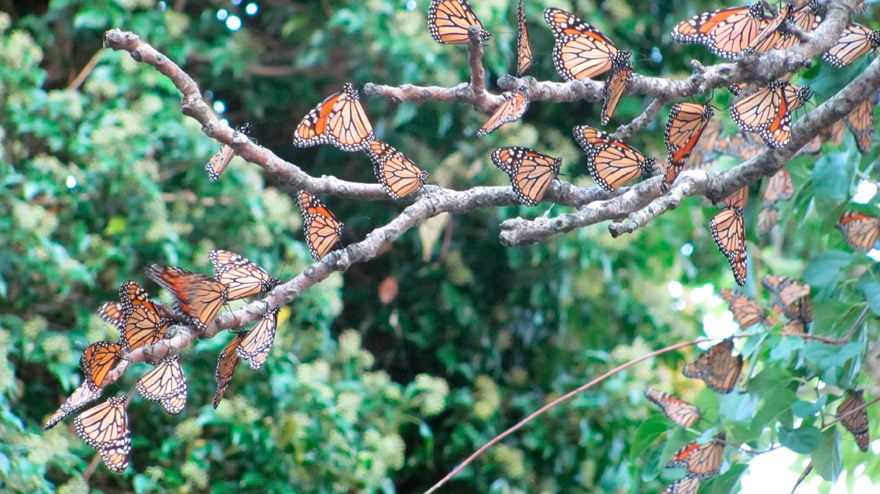 Below, a mourning cloak stops for a rest on our hammock.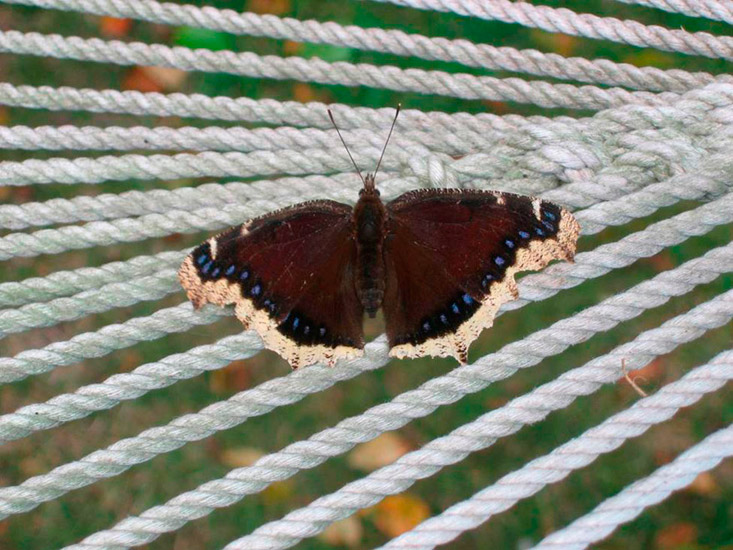 Do you see something you would not normally notice below?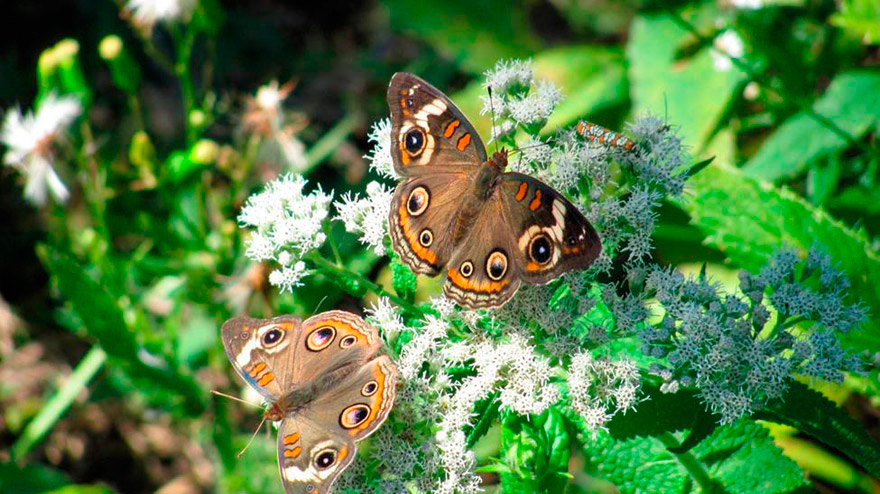 Look closer….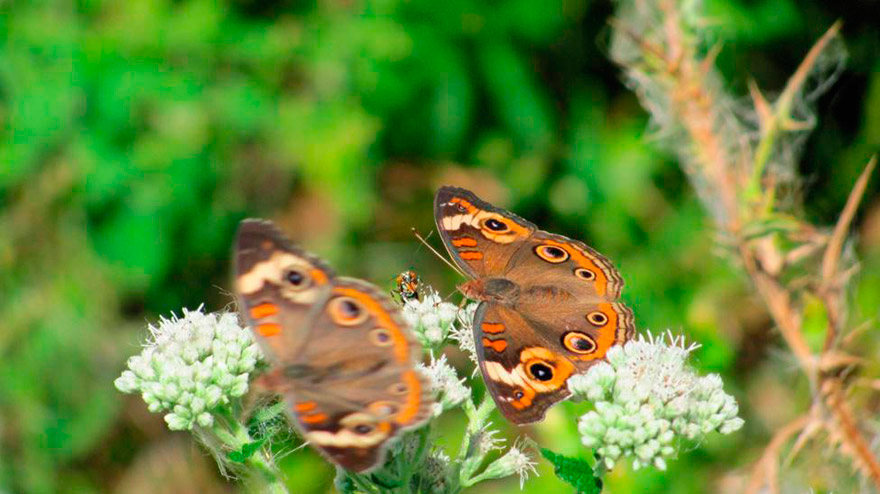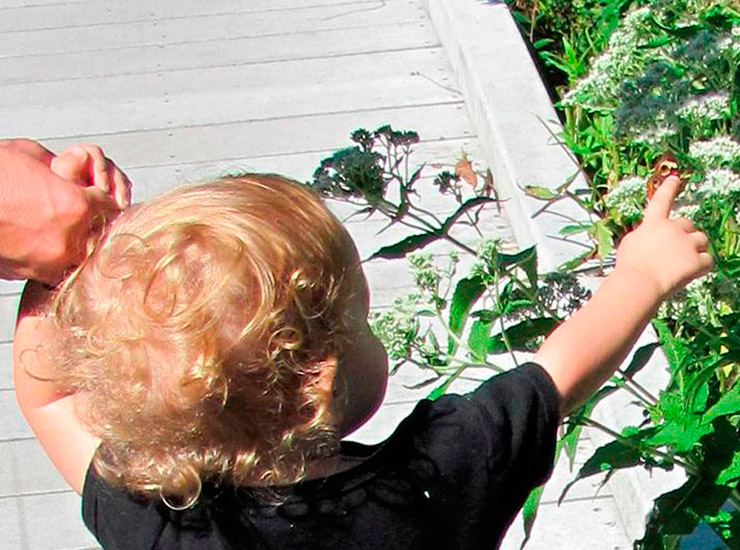 Our youngest grandson is very in tune with butterflies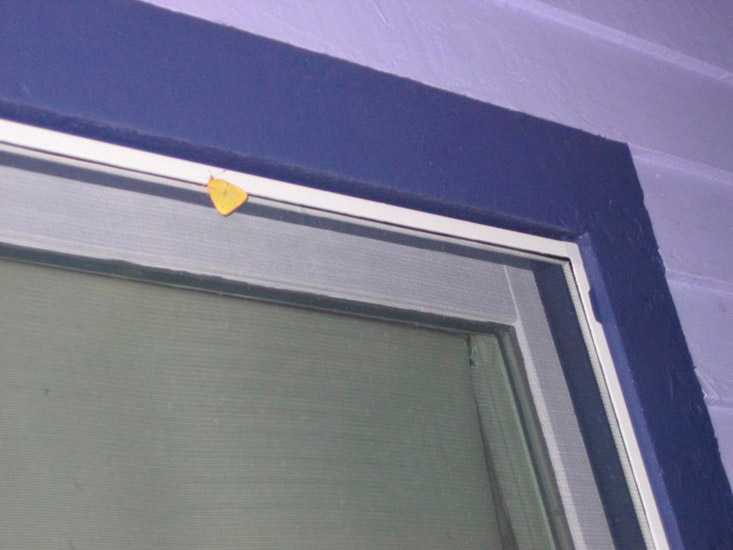 A sulphur butterfly stopped by our cottage in Cape May one evening and stayed overnight. He was still there when we went outside the next morning with coffee cups in hand.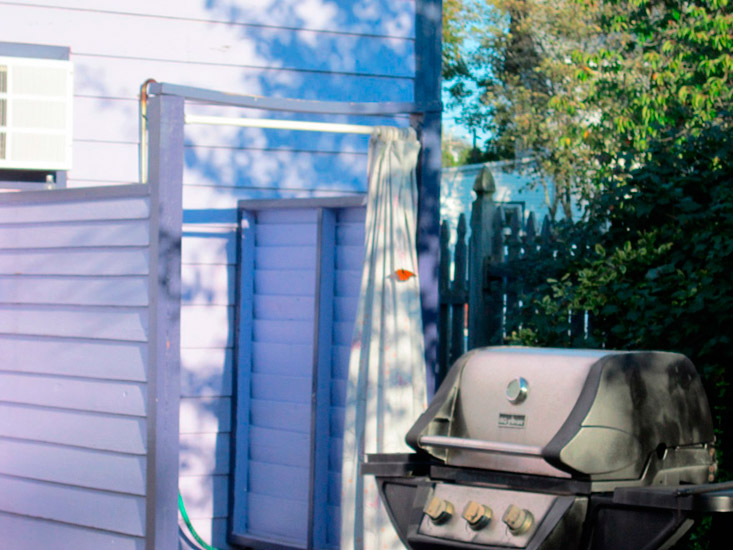 Do you see the outdoor shower curtain? A monarch is resting there… Incidentally, the shower curtain has a butterfly design on it.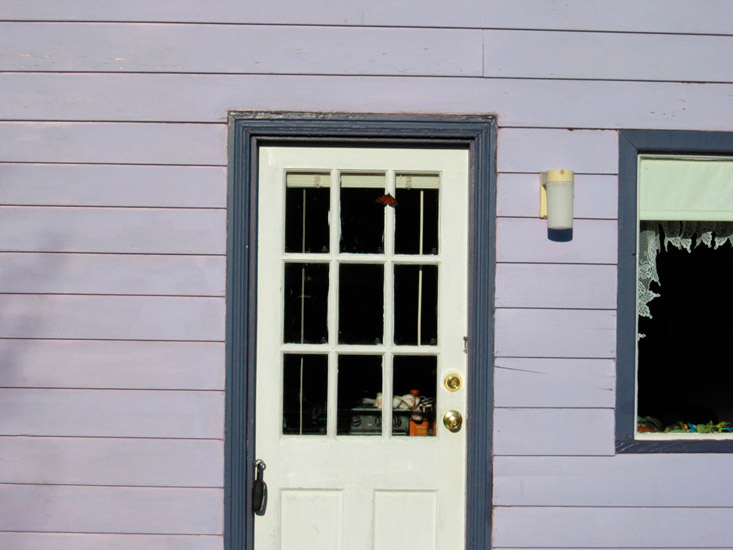 Do you see something you might not normally notice (above)? There is a monarch on the door looking to come in for a visit (near the top window pane).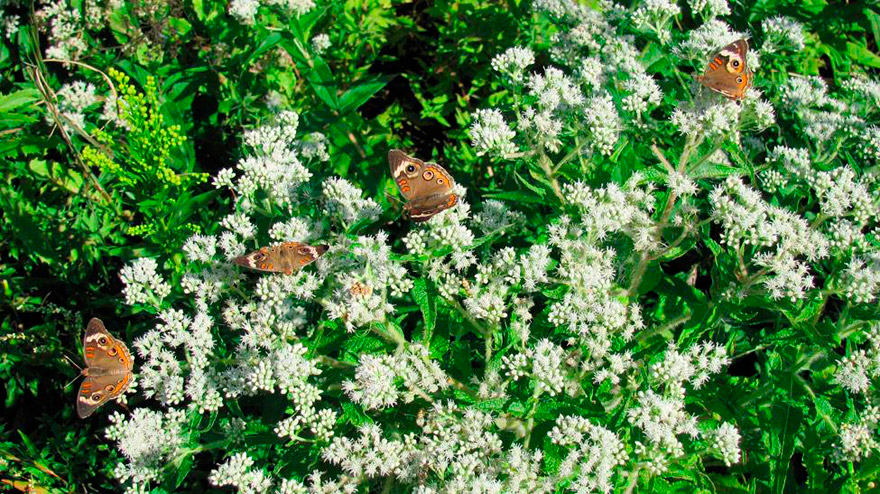 I would be remiss if I did not point out that monarchs are not the only butterflies that migrate. Buckeyes (above) and red admirals (below), along with other kinds of butterflies, migrate each year (not to Mexico like the monarchs but they do fly north and south following the warm weather).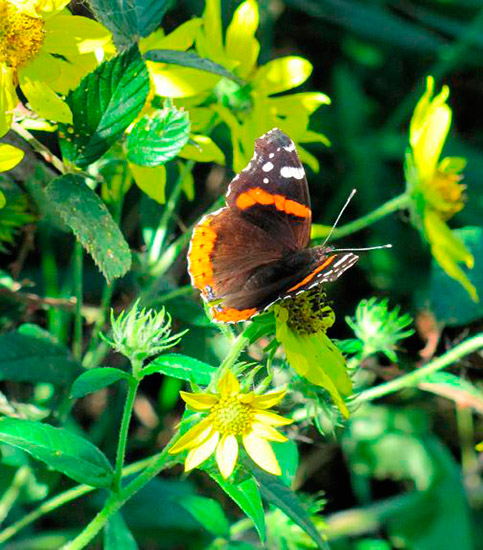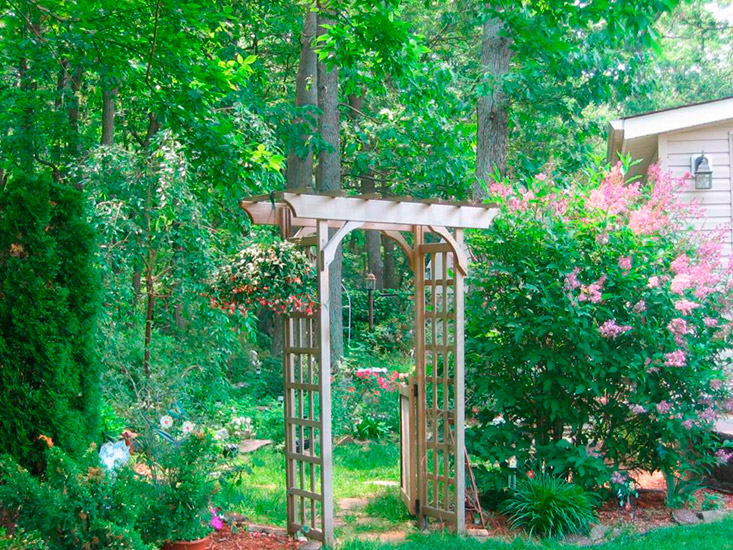 Well, I invited you down another path with me while I explained my love of butterflies; I hope a little of it has rubbed off. I know my passion for butterflies has that effect on people sometimes…
Lastly, nurse colleagues should know that I see a distinct relationship between nurses and butterflies:
"Nurses are just like butterflies, we make people smile and we transform, for the better, those whose lives we touch"
(Todaro-Franceschi, 2012, p. 195).
AHA!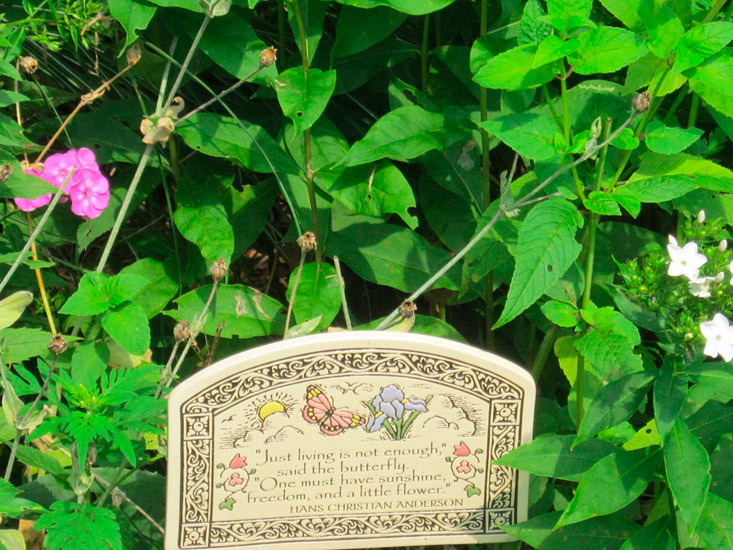 Check out the references and resources. You might want to create your own monarch waystation (see monarchwatch.org)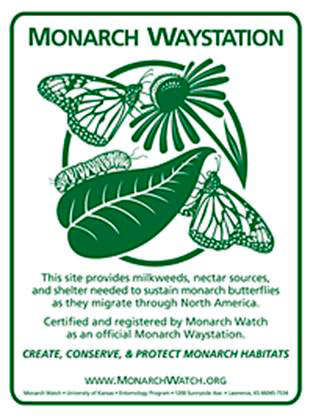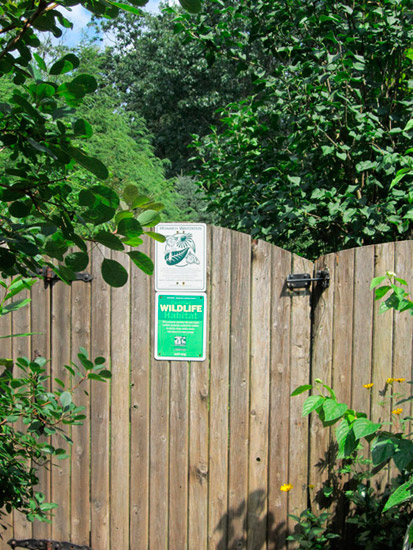 Resources
Journey North: On this website you can sign up to receive e-news on the migration of various wildlife-monarchs, hummingbirds, whooping cranes, and lots of other signs of spring (and fall) news. You can also report your sightings.
Monarch Watch: For more information on the monarch butterfly and their migration. You can also support the butterflies by creating a monarch waystation.
The Butterfly Site: Lots of information on all kinds of butterflies.
Books
The below list is not all inclusive; it's a select list representative of a larger (but not large enough!) body of work on the topic.
Braudeau, M. (2004). The flight of the monarch. (first English edition).
Halpern, S. (2001). Four wings and a prayer.
Myers, R. (2001). When the monarchs fly.
Opler, P.A., Peterson, R.T. and Malikul, V. (1998). A Field Guide to Eastern Butterflies (Peterson Field Guides).
Pyle, R. M. (1999). Chasing monarchs: Migrating with the butterflies of passage.
Russell, S. A. (2003). An obsession with butterflies.
Salmon, M. A. (2000). The Aurelian legacy: British butterflies and their collectors.
Tekulsky, M. (1985). The butterfly garden.
Stokes, D., Stokes, L. & Williams, E. (1991). Stokes butterfly book: The complete guide to butterfly gardening, identification, and behavior.
Todaro-Franceschi,V. (1999, 2012). (yes, I do write a little about the butterflies!)
Volavkova, H. (Ed.). (1993). I never saw another butterfly…
Xerces Society and the Smithsonian Institution. (1998). Butterfly gardening: Creating summer magic in your garden.
Favorite novel with butterflies
Carle, E. (1969). The very hungry caterpillar.
Maple, M. (no date). On the wings of a butterfly: A story about life and death.
Monroe, M. A. (2011). The butterfly's daughter.
Favorite movies with butterfly synchronicity (related to dead loved ones, dying and death)
"Love is a Many Splendored Thing"
"Patch Adams"
"Step Mom"
I'm sure there are others; I am drawing a blank right now…
For video clips on the monarch migration check out You Tube. There are many—here is a link to a brief one from Point Pelee National Park.
Often we move too fast and are so fixated on the future that we lose sight of the present. We forget to appreciate what we have, right here, right now… Then we slip down the path without enjoying it at all. We never see the butterflies. Walk more slowly.